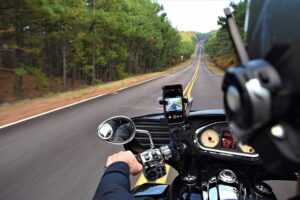 The scenic highways, breathtaking views, and challenging twists and turns of the southern West Virginia mountains draw in motorcycle riders from around the country. The thrill of traveling through Devil's Den in Logan County is an adventure that few can pass up. However, with the beauty of the mountains also come unforeseen dangers that can impact a motorcyclist for life. When accidents happen, riders need an experienced southern WV motorcycle injury lawyer they can depend on—Jason Harwood is that lawyer.
Why Contact a Southern WV Motorcycle Injury Lawyer?
Statistics from the Insurance Information Institute show that on average there are over 5,000 fatalities and 90,000 injuries to motorcyclists and their passengers each year. If you or your loved ones become part of these statistics, it's important to contact an attorney with knowledge of WV's motorcycle laws and who has experience representing victims throughout the southern part of the state. It's not enough to hire just any attorney. You need someone who drives Corridor G and the surrounding highways every day. Someone who knows what it's like to watch for deer darting off the side of a hill. Someone who has come around a curve only to find a distracted driver taking up half of your lane. You deserve someone who understands and cares.
Common Causes of WV Motorcycle Accidents
There are a multitude of things that can cause accidents on southern West Virginia's country roads. Here are a few common factors to be watching for:
Hazardous road conditions;
Distracted drivers;
Speeders;
Poor visibility;
Inclement weather;
Oversized trucks; and
Road debris.
While no one can predict the unexpected, bikers have to be extra alert of other drivers and their surroundings because they are at a greater risk of being injured than drivers who are protected by seat belts and air bags.
Avoiding WV Motorcycle Accidents before They Happen
It's been said that the best offense is a good defense. To reduce your chances of being injured or worse due to the negligence of another driver, it's important for motorcyclists to take steps to prevent accidents before they happen. Here are a few tips to help keep you safe:
Follow all traffic laws;
Stay visible;
Dress appropriately;
Keep alert; and
Avoid bad weather.
While you may think you're only going out for a relaxing ride to take in the scenic views and majestic beauty of the mountains, right around the next curve you may run into a life-altering event. A few safety precautions and preparations could save your life.
Contact a Southern WV Motorcycle Injury Lawyer You Can Trust
Being injured or losing someone you love in a motorcycle accident is life-changing. Not only does it affect you physically and emotionally, but also financially due to time off work and mounting medical bills. Southern WV motorcycle injury lawyer Jason Harwood of Harwood Legal PLLC understands the immediate and future hardships facing victims and their families should the unimaginable happen. Jason will fight to ensure you receive the compensation you need and deserve. Call (304) 752-5015 or complete our online contact form to schedule a consultation.