West Virginia (WV) offers incredible motorcycle rides, but to enjoy the Mountain State from the seat of your bike you should know and comply with WV motorcycle laws. For a trouble-free ride, motorcyclists need to have their ducks in a row. That means making sure your bike is in good shape and knowing and following the state's motorcycle laws.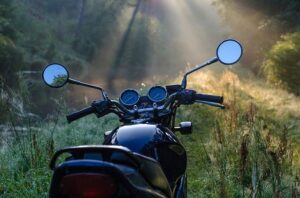 What WV Motorcycle Laws Require
Almost every state sets motorcycle laws, and bikers venturing cross-country need to be aware of the laws in the states they cross. WV motorcycle laws set minimum requirements in several key areas:
Licensure;
Helmet requirements;
Eye protection;
Daytime headlight; and
Lane splitting.
Before you decide to buy a motorcycle for transportation in West Virginia or visit its scenic vistas, be sure you're up-to-date on WV motorcycling laws that may be different from those in other states.
Do You Have to Have a Motorcycle License in WV?
West Virginia requires motorcyclists to obtain a license to travel legally on the state's roadways. Someone without an operator's license can obtain a motorcycle license, or a person with an operator's license can obtain a motorcycle endorsement. In either case, the motorcyclist must pass a written exam and a road test. After passing the written exam, a motorcyclist may participate in a motorcycle safety program and, upon successful completion, would not have to take the road test.
Do You Have to Wear a Helmet on a Motorcycle in WV?
West Virginia Code § 17C-15-44(a) requires anyone riding a motorcycle in the state to wear a helmet. This includes passengers on the motorcycle and in sidecars, and there is no age restriction. But not just any helmet-wearing will do. To be in compliance, the helmet must be fastened to the wearer's head with a neck or chin strap. Also, the helmet must meet the standards set by the United States Department of Transportation (USDOT) Federal Motor Vehicle Safety Standard No. 2018, Snell Safety Standards, or American National Standards Institute (ANSI) Standard Z-90.1.
Is Special Eye Protection Required for Motorcyclists in WV?
In short, yes. West Virginia Code § 17C-15-44(b) requires both motorcycle operators and passengers to wear eye protection in one of these forms:
Eyeglasses;
Eye goggles; or
Face shield.
If using only eyeglasses, they must be shatter-resistant. Eye goggles or a face shield must meet the standards set by ANSI for Head, Eye, and Respiratory Protection. Also, if the motorcycle has a windscreen, it must be constructed of shatter-resistant safety glass that meets the performance specifications set by the USDOT and ANSI.
Are Daytime Headlights Required on Motorcycles in WV?
West Virginia Code § 17B-15-23 requires all motorcycles and other motor-driven cycles or mopeds to have a single- or multiple-beam headlight that is visible from 100 feet at speeds of at least 25 miles per hour.
Is Lane Splitting Legal in West Virginia?
Lane splitting, when a motorcyclist drives between two lanes of traffic, is not legal in West Virginia or most of the other states in the US. California legalized lane splitting in 2016 after a University of California at Berkley study showed that lane splitting increases rider safety, but West Virginia has not passed a law legalizing this maneuver.
What Are the WV Motorcycle Insurance Requirements?
Just as car owners must maintain certain levels of insurance, West Virginia requires motorcyclists to carry motorcycle liability insurance. The minimum amounts of coverage required are:
$40,000 bodily injury per accident;
$20,000 bodily injury per person; and
$10,000 property damage per accident.
Find Answers about WV Motorcycle Laws from a West Virginia Motorcycle Lawyer
Whether you have specific questions about WV motorcycle laws or you need an attorney because of an accident, Jason Harwood at Harwood Legal can help. Working out of his Logan, WV office, Jason helps clients throughout the Mountain State in general motorcycle and personal injury cases. For a consultation, call Jason at 304-752-5015 or complete this online contact form.