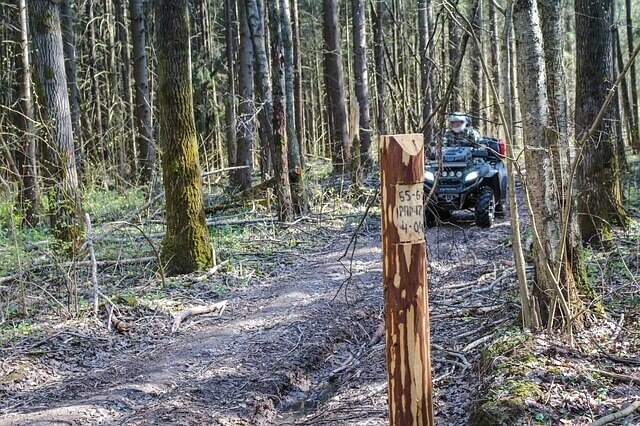 The woods and mountains make West Virginia (WV) an ideal playground for four wheeler lovers. But four wheeling is a fast-paced activity on rugged ground, and injuries can occur. If you've suffered an injury that could have been avoided, you need to know your legal rights. To get the compensation you need to recover and heal, call a WV four wheeler injury lawyer who knows the sport and the law: Jason Harwood of Harwood Legal, PLLC.
What an Experienced WV Four Wheeler Injury Lawyer Can Do for You
West Virginia invites ATV fans from all over the country to enjoy the Mountain State's wilderness. The Hatfield & McCoy trail system runs through Logan County and southern West Virginia and, along with private trails throughout the state, calls people from all over to enjoy the natural beauty our state has to offer. But your adventure can turn into a nightmare if you or a loved one is injured in a four wheeler accident. When that happens, you need four wheeler injury lawyer Jason Harwood to help manage your legal needs so you can focus on healing.
Causes and Kinds of ATV Accident Injuries
Although fun to ride, four wheelers can be dangerous. The Consumer Product Safety Commission tracks and reports ATV-related injuries and deaths. These numbers show that, although the rate of injury has decreased in recent years, many serious injuries still occur.
While ATV accident injuries can be very mild, the speed and terrain involved can also lead to more serious injuries. Common ATV and four wheeler injuries include the following:
Concussion;
Broken bones;
Spinal cord injuries;
Internal injuries; and
Brain damage.
When these injuries occur, you need immediate medical care. But afterward, you might begin to wonder about why the accident happened at all and if it could have been avoided.
Four wheeler accidents can have a variety of causes, and some accidents can be tracked back to particular causes:
Driver negligence or recklessness;
Driving under the influence;
Distracted ATV driving;
Driving off designated or approved trails;
Lack of driver training; or
Defective ATV parts or maintenance.
If your accident was caused by the action or inaction of someone else, it might have been avoidable, and you may be entitled to compensation in the form of monetary damages.
Protecting Your Rights after ATV Accident Injuries in WV
Your focus after suffering ATV accident injuries should be getting medical care and taking time for healing. But your recovery could be complicated by the expense of treatment or the negative effects of your injuries, such as loss of income. Many people who have been injured in ATV or four wheeler accidents have questions like these:
Does insurance cover ATV accidents?
How can I pay my bills while I'm off work recovering?
Can I get damages from the person or company who caused my injuries?
One key thing to remember after getting initial treatment is to consult an attorney before talking to anyone about the accident or signing documents related to the accident. Without meaning to, you could be signing away your right to any kind of damages or compensation for your losses.
Talk to a lawyer as soon as possible after your accident and before you talk to anyone about the accident or sign any documents. Jason Harwood, an experienced Logan County ATV injury lawyer, can help protect your interests and fight for your right to compensation to offset the costs of your accident and carry you through your recuperation.
Call Harwood Legal: Your WV Four Wheeler Injury Lawyer
A Logan County ATV injury lawyer serving all of southern West Virginia, Jason Harwood is a seasoned litigator who knows how cases involving ATV accident injuries work. With experience on both sides of the bench, Jason understands how southern West Virginia courts approach cases, and he cares about helping his fellow West Virginians.
If you or someone you love is dealing with the results of ATV accident injuries, call Jason Harwood of Harwood Legal for help. As your WV four wheeler injury lawyer, he will leave no stone unturned to make things right for you. Contact Jason today by calling 304-752-5015 or by completing his online contact form.